Studi-Pausenexpress (active break)
... the active break for in between
Since the summer semester 2019, we have been ensuring eventful times within the courses. University sports have been supporting company health management at the Free University of Berlin since 2013 and, with the Pausenexpress, offers employees an active exercise break as part of their everyday work. This should now also be made possible for students in an abbreviated form.
In addition to movement in everyday life, the active break should loosen up the learning atmosphere and increase the ability to concentrate. After the short break, it is easier to follow the rest of the event with increased attention. For lecturers: right in the middle, instead of just being there!
Imagefilm Studi-Pausenexpress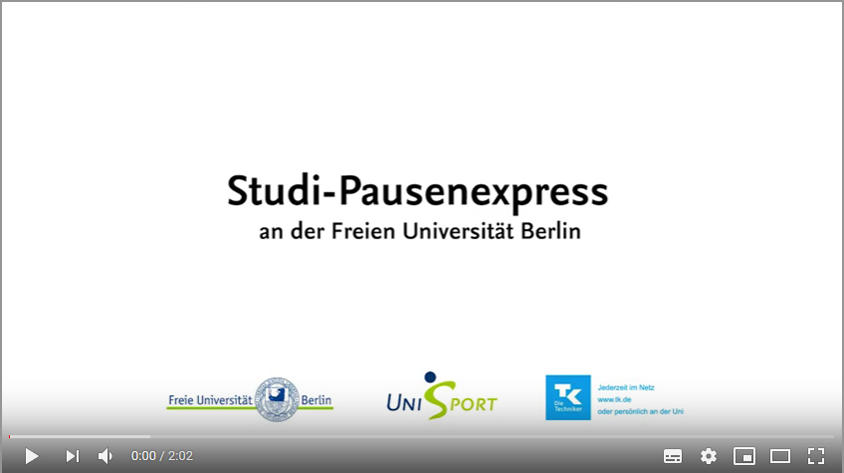 Offer in winter semester: from 31 October to 10 February
Since we cannot offer the Studi-Pausenexpress in all the lecture hall due to the current situation, the "move4health" team has produced 5-minute videos that teachers can download: Pausenexpress Videos
In addition, all university members can take part in our LIVE-Pausenexpress @ HOME several times a week for free, regardless of the courses. More information here
---
Facts
Short exercise program within the course
Exercise focus on stressed shoulder, neck and back muscles
Max. 5 minutes
Free of charge
Qualified course leader
From students for students
Ideally, the offer is made "by students for students". We are not necessarily looking for sports professionals with extensive licenses for the implementation, but rather sports-enthusiastic & motivated students who want to be part of the project.
You haven't gained any experience in this regard? Do not panic - a training course, including tips and exercise examples for correct implementation, is mandatory for all trainers beforehand. Your advantage: Soft skills such as didactic and methodical communication skills, presentation in front of a large group or your own health awareness can be promoted in a playful way.
Participate. Switch off. Breathe. Start again!
---
Contact person
Janine Krüger (project coordinator "move4health")
janine.krueger@fu-berlin.de | 030 838 63845